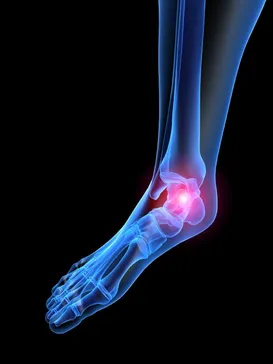 Plantar fasciitis is a painful condition that occurs when you have inflammation in the fascia at the bottom of your feet. At Asheville Podiatry Associates in Asheville, NC, Dr. Douglas Milch and Dr. Debra Wright provide plantar fasciitis treatment to ease your symptoms. Whether you have an injury caused by repetitive strain such as from jogging, or you have a sudden onset of plantar fasciitis after a long day, it's time to get the care you deserve to manage your pain. From conservative treatment to supportive therapies, it is important to get plantar fasciitis treatment when the pain begins.
Causes of Plantar Fasciitis
The plantar fascia is the band of connective tissue running lengthwise on the underside of the foot. If your arches are not supported during exercise, this can cause overuse injuries leading to inflammation in your plantar fascia. An injury to your plantar fascia can occur if you jump down hard on your feet from a high distance. Wearing flat-soled shoes can lead to chronic problems with your plantar fascia. You may also have a bone spur in your heel or an injury to the structure of your foot causing the pain.
Significant pain at the bottom of your feet or heels when putting weight on them is a symptom of plantar fasciitis. If you are having a hard time walking because of pain in your feet, it's time to see a podiatrist for further evaluation.
Plantar Fasciitis Treatment Options
It takes time for your plantar fasciitis to heal. In the early stages, rest, ice, and anti-inflammatory medication can ease your symptoms. Gentle stretching of the bottom of your feet and massage can also help reduce the pain. A podiatrist might recommend orthotics to provide your feet with support while walking, or splints to wear at night to keep your plantar fascia stretched out. Physical therapy can teach you stretching and strengthening exercises, while steroid injections can help reduce inflammation that isn't going away with conservative treatment.
Call for Plantar Fasciitis Treatment Today
If you are struggling with pain at the bottom of your feet, it's time to have an evaluation with a podiatrist. Plantar fasciitis treatment may be necessary if your pain is caused by an injury to your plantar fascia. Call Asheville Podiatry Associates in Asheville, NC at 828-252-9424, and set up an appointment to meet with Dr. Milch or Dr. Wright today.